What is corporate philanthropy?
In simple terms, it is the efforts and support of a business on behalf of a non-profit organisation, which helps them reach their goals. These could be pure fundraising donations, resources or expertise.
This can take many forms, such as:
Fundraising events
CSR campaigns
Corporate partnerships
Cause awareness marketing
Charity of the year
Employee fundraising
Payroll giving
Corporate Philanthropy is the basis for any fundraising or partnership programme between businesses and charities.
What are the benefits of corporate-charity partnerships?
Reaching fundraising targets
Charities can use their corporate partner's resources to boost donations and reach their financial goals. This could be through payroll giving, employee fundraising, or being the nominated charity at an event.
ASDA's payroll giving scheme for instance, allows employees to donate to any of their charity partners (Breast Cancer Now, CoppaFeel!, FareShare, the Trussell Trust, or BBC Children in Need) on a regular, or one-off basis. 
Grow a cause through awareness and association
Charities are also able to grow the awareness of their mission through association with a bigger business. Whether it is through social media campaigns or on-site branding and promotion. 
A clear example of this is the food redistribution charity FareShare, who've worked with Tesco since 2012. By highlighting the problem of food waste at a major supermarket, it's a natural point for consumers to learn more about their work, supporting other food poverty relief charities, and engage with the campaign. 
Establishing Corporate Social Responsibility (CSR)
Businesses can showcase and fulfil their CSR initiatives; a necessity for corporates nowadays. This can look like a company approaching a charity with the aim to help with their long-term sustainability and employee wellbeing goals. 
Santander have worked with Splash Community Projects for the past 12 years, pledging £1.2 million to community builds as well as giving employees the opportunity to lead/volunteers projects such as the refurbishment of a community garden for Loveworks, a charity based in Surrey. 
Showcasing company values to potential consumers
Businesses can use their involvement with charities to prove their company values and appeal to new audiences such as Millennials and Gen Z who actively look for ethical brands to shop with. 
Helping a worthy cause
This one might seem obvious but it's a win-win. The cause receives help in kind and the business can gain the satisfaction of doing something positive for a cause that makes a real difference.  
Two days + 100 Santander UK/Madrid HQ personnel = all this…

These beautiful shaded areas and improved growing areas at Fundacion Manatial are now providing a therapeutic, social environment for residents, supporting them in their healing journeys
#teamwork #leadership #csr pic.twitter.com/ywWKanopi8

— Splash Projects (@Splash_Projects) September 20, 2022
Who's benefitting from corporate partnerships already?
The Salvation Army are one high profile organisation who are successfully using corporate partnerships to their benefit. Current corporate partners include ASDA, The Entertainer and Pickfords.
Businesses can partner with the charity in different ways: from sponsoring events, to choosing them as an organisation's 'Charity of the Year' – both these methods multiply the impact the charity can have across it's supporter base, as well as allowing employees the chance to get involved with supporting the homeless and vulnerable people, through a faith-based mission.  
It's about making your charity mission and values clear and obvious, and offering varied levels of involvement so companies can feel confident about engaging with the cause.
What can the Donation Station do for corporate giving?
Our devices are designed to adapt to all types of fundraising efforts, including corporate-charity partnerships. Depending on your approach, you might use our Donation Station in a different way.
Short-term project or sponsored event?
Renting devices to capture donations and supporter sign-ups during the event can help reach those fundraising goals.
Longer-term charity partnership?
Placing a Donation Station on permanent display for in-person fundraising and donor signups to support your collaboration will boost visibility of a partnership, and provide a continual stream of income via donations.
A Good Thing
A Good Thing are an organisation dedicated to reducing business waste to landfill by distributing unused items from businesses to charities – of any size.
A gift in kind! Businesses list their donations, and charities get in touch with what they currently need – A Good Thing  then does the matchmaking!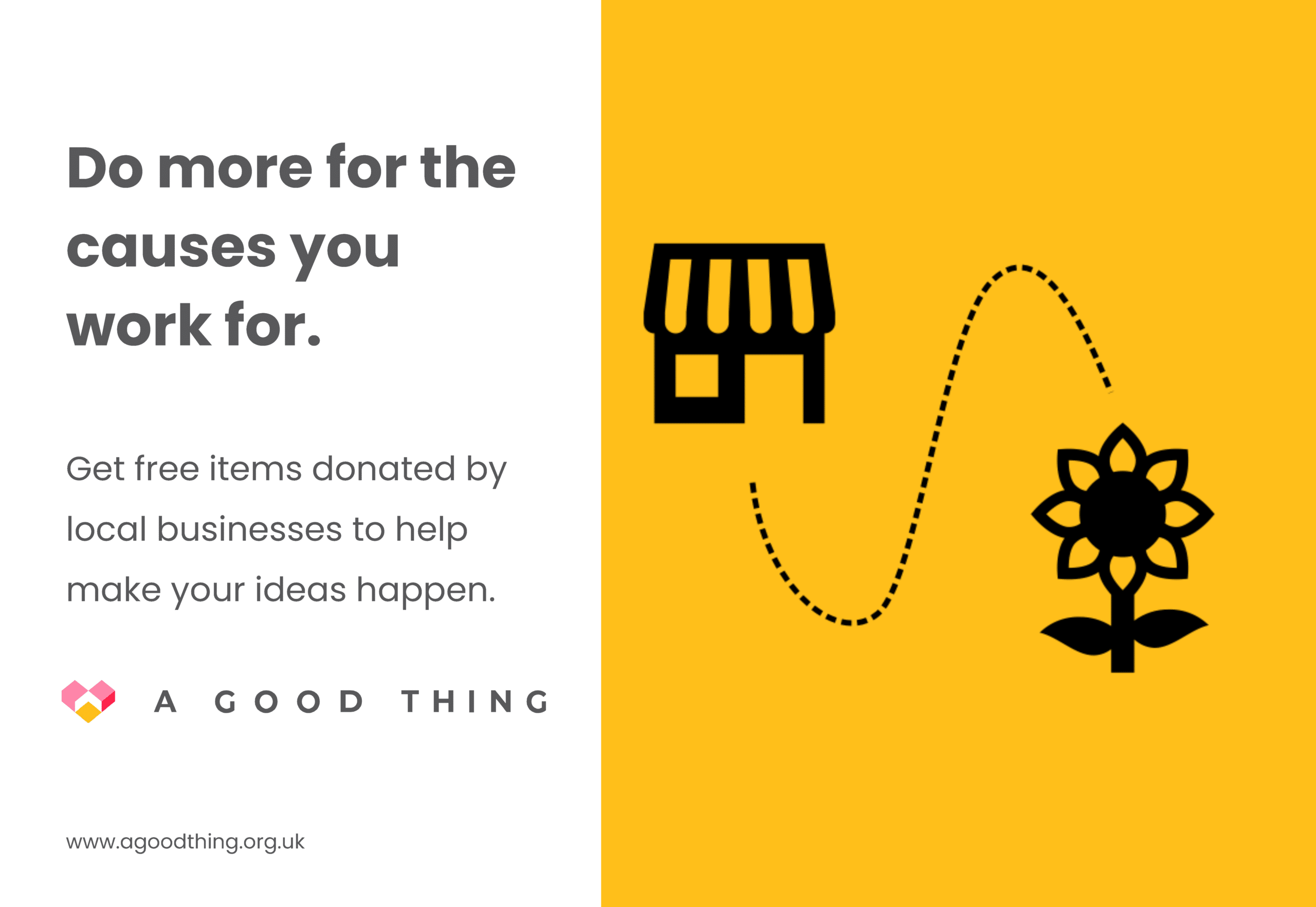 We help socially-minded organisations transition to digital systems, building stronger relationships through impactful products and services.
Our experience goes back two decades, with a foundation building and providing critical digital services and products for the financial services and retail industries.
With a long-proven ability to handle challenging projects and a team of trusted experts, we work hard to solve problems and deliver change that helps others.