What's the outlook like for charities during an economic downturn?
The outlook for the immediate future is uncertain for charities. The news tells us the economic situation is serious – with both inflation and low wages pushing down peoples' income and restricting spending.
The cost-of-living crisis is now part of daily life and charities will know what's coming. As the effects begin to bite, demand on services will grow. People will need more help to get by.
Most of us know how to give, or maybe get help from a local foodbank.
The general data shows why.
The Trussell Trust distributed 1.3 million food parcels to people facing hardship between April and September 2022. That's 52% more than the same period in 2019 – and they report for the first time a drastic increase in the number of people turning to food banks for support.
Let's not forget we're still in a post-Covid hangover.
Demand for services and support went up during the pandemic according to NCVO. Most seriously felt in front-line and infrastructure organisations – digital technology, service development and mobilising volunteers were the pressure points.
So, as people feel pressure to make ends meet, it's understandable things get squeezed: regular donors and charitable giving in general will be under review.
About 40% of charities have relied on reserves to get them through the past two years and the potential impact of a recession on charities is clear according to CAF polling:
1 in 7 donors are considering cutting back on donations in the next size months
1 in 10 have already chose to not make a one-off donations
If history says a recession usually means a drop in fundraising income, what will happen to the way people donate?
Charitable giving fell 11% during the 2008 recession – due to a combination of fewer people donating, in smaller amounts according to NCVO. But – people still gave to charity. In that same period, over half the adult population still gave to charity each month.
The Economics Observatory says that UK charities appear to be facing a decline in the real value of donations, at a time when their costs will be rising.
They also show us  that in real-terms and as a share of GDP the value of giving has been in steady decline since 2010.
It will be important to adapt the way fundraising is done, to accommodate the flexibility people might need in their giving.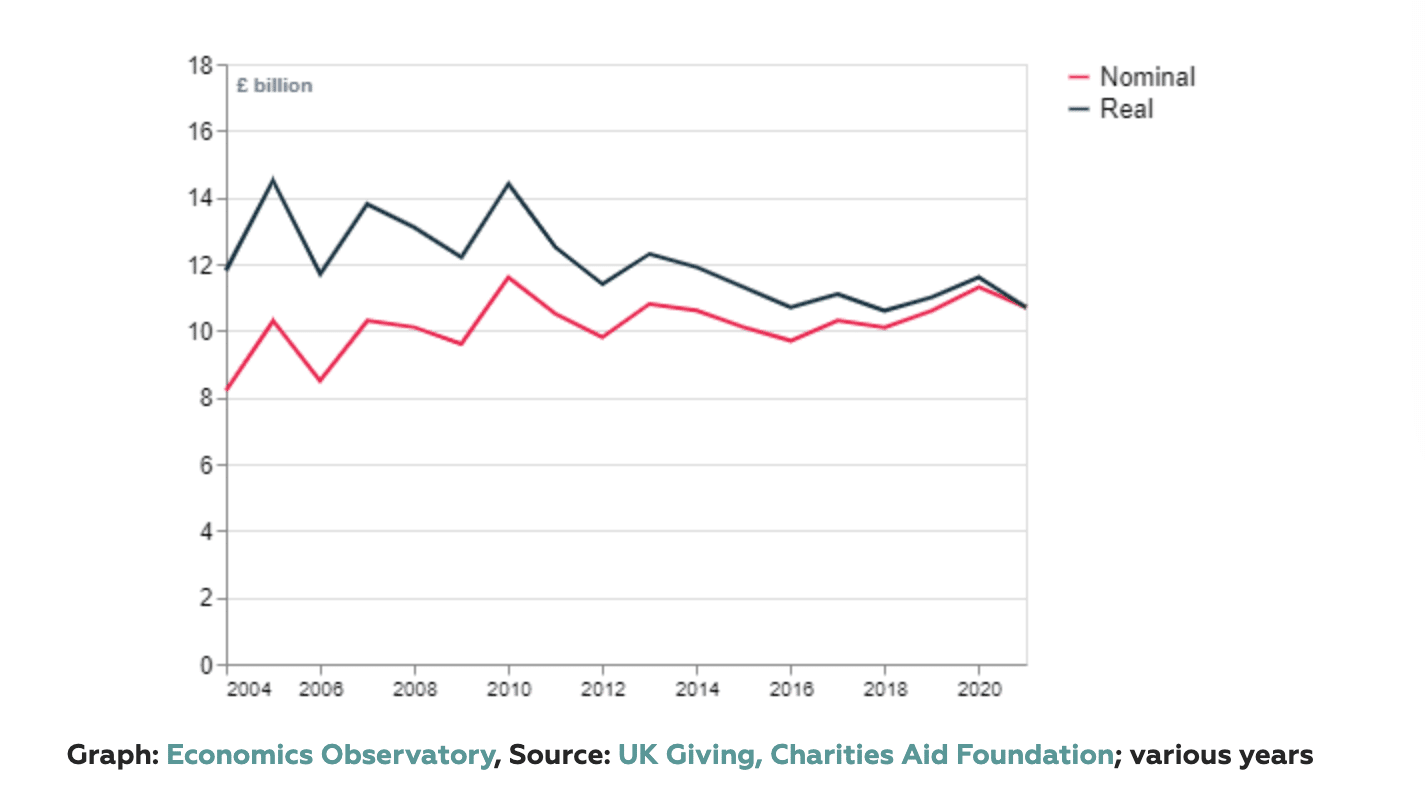 What can charities do to protect themselves?
Unfortunately, the typical campaigns might not work. Cash appeal response rates are down around 20% against forecast figures, and access to additional philanthropy will require new relationship building and grant applications.
High-net worth individuals normally protected from economic recessions may prefer to stay in control of their assets directing their philanthropy to long standing partnerships. And corporate CSR budgets might get cut too, but here's a great article to argue against that!
Positively – consumer spending on prize-led fundraising reached a record-breaking £4bn in 2019/20, and is estimated to rise to £9.4bn by 2024. 
Maybe it's time to set up a local lottery and embrace the digital transformation?
Or start nurturing new philanthropic relationships through targeted events and CSR partnerships?
We help socially-minded organisations transition to digital systems, building stronger relationships through impactful products and services.
Our experience goes back two decades, with a foundation building and providing critical digital services and products for the financial services and retail industries.
With a long-proven ability to handle challenging projects and a team of trusted experts, we work hard to solve problems and deliver change that helps others.