Fundraising for Mosques: what we learned at Mosque Expo
Talking to Mosque Leaders recently at Mosque Expo, it was great to hear so much about how the Islamic community values the generosity of giving back to people in need, within their local area, or connected to individual Mosques.
We were at this exciting event to show what our Donation Station is already achieving for faith groups and charities, as well as contribute to the discussion around digital fundraising.
Connecting up the Islamic community with technology, financial services support, or new building projects, it was great to see 21st Century Beacon Mosques recognised for the spiritual, educational, social and economic support they deliver throughout the UK and beyond.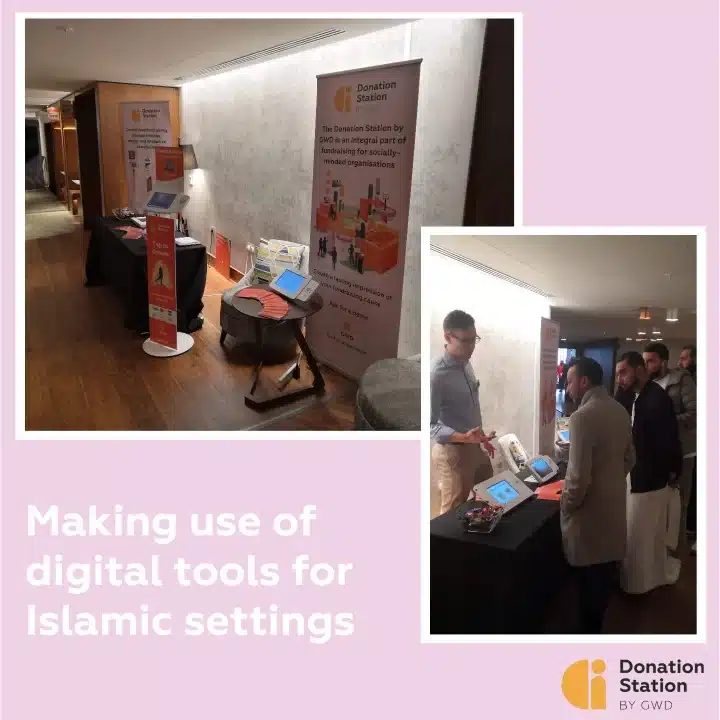 Fundraising for the Islamic Community
It was important to us to recognise the common challenges and individual needs that Mosques and Islamic centres.
We're experienced in helping Mosques, but we wanted to gain a deeper understanding – to tailor our Donation Station better to fundraising campaigns and activities like Zakat, which we know is so important to Muslims throughout the world.
Let's talk recession-ready fundraising
We joined a discussion around Islamic fundraising and financial support and showed how important it is to tap into fundraising tools like contactless donation machines to gain more for Mosques.
The UK is currently facing economic pressures that are affecting the whole of society – and charities are not immune. Recession and Cost-of-Living issues, combined with digital skills gaps mean faith-based organisations are at risk of income loss if digital fundraising doesn't feature at Mosque.
It's worth considering the following:
Contactless is a safe technology – our Donation Station is built using secure systems to capture payments safely
Training may help – collaborating with your community to build up your digital skills at Mosque can broaden the reach of your fundraising
Tap into Generosity – a good contactless device like the Donation Station will take donations swiftly AND capture Gift Aid declarations at the same time
We help socially-minded organisations transition to digital systems, building stronger relationships through impactful products and services.
Our experience goes back two decades, with a foundation building and providing critical digital services and products for the financial services and retail industries.
With a long-proven ability to handle challenging projects and a team of trusted experts, we work hard to solve problems and deliver change that helps others.