Contactless technology has become our norm.
What does this mean for the individual giving experience?
Face to Face giving is so important for many charities, but since it's predicted only 1 in 10 payments will be made with cash by the end of the decade charities need to think about how contactless giving supports their individual fundraising agenda.
This is where Face to Place Giving comes in.
Giving is easy, if you know how.
Implementing any strategy takes time and testing. But what happens if you don't have time to pilot new technology?
With resources already under strain, a quick but considered decision is probably what's most helpful. 
We've built a proven reputation for expertise in this area, through years helping charities manage and improve their contactless donations income with our Donation Station. 
So, if you're keen to embrace Face to Place giving, you'll need to look at both the physical and digital for successful donation experiences.
If you want more people to give, you'll need to explore how they want to give.
5 Tips for maximising the visibility of your in-situ contactless fundraising
1. Footfall - where do your supporters visit?
Knowing the typical 
footfall and flow
 of a venue's visitor journey can help you to position your device effectively.
Consider your busiest or easiest access locations e.g. the visitor entrance, in order to optimize the number of people who interact with the device.  
The more people who see it, the more people have the opportunity to engage.  
Similarly, if you organise events throughout a day, with supporters coming and going, you can increase the devices visibility by positioning another Donation Station near an exit or Gift Shop.
Churches and Museums often place their device near an exit with high footfall in order to capture donations after an event or service. 
The typical footfall within an Art Gallery will be varied, so choosing the right spot for your fundraising devices will
involve some testing – but we find there are hotspots that can boost donations income.
Placement of multiple devices means that everyone has the opportunity to interact and give.
If they miss one device, they will find the next.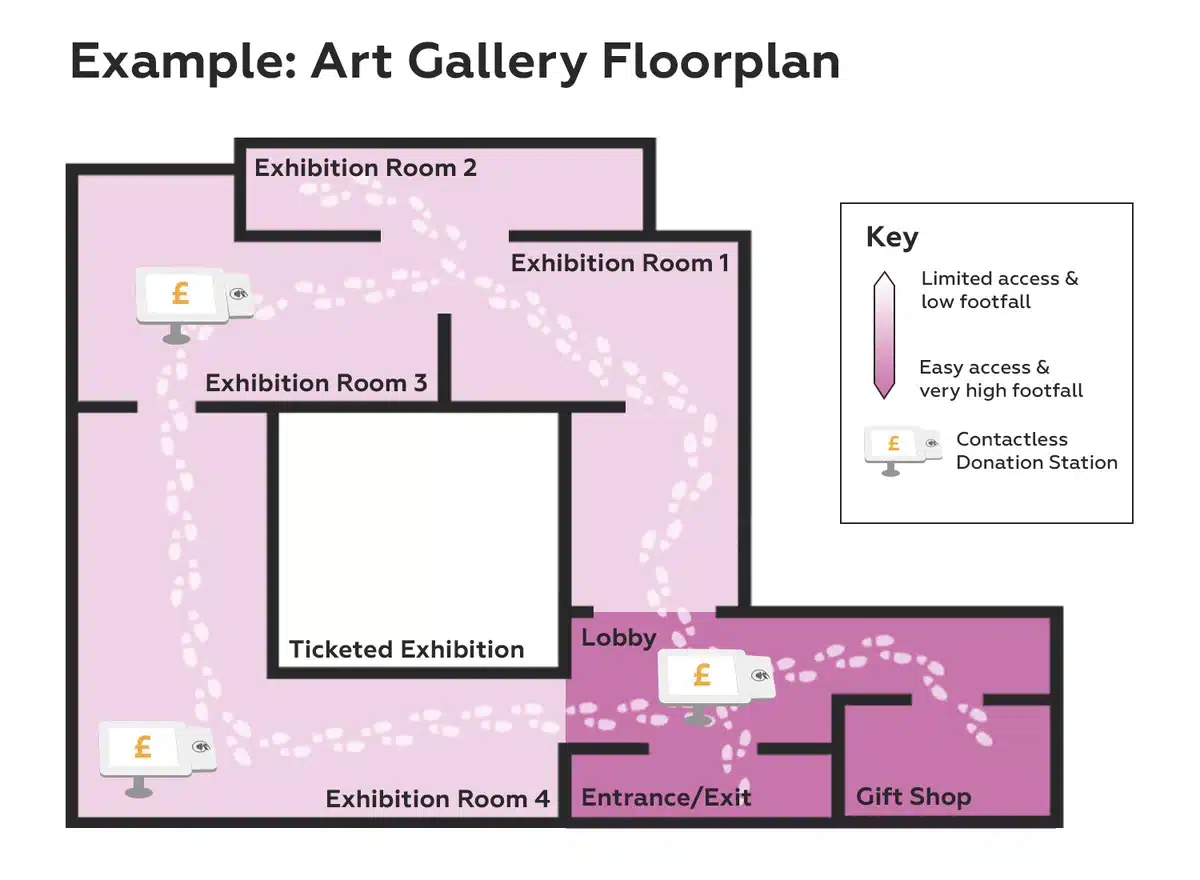 2. Visitor Journey - when is it appropriate to ask for donations?
Depending on your venue or event visitor journey, knowing when to ask for donations is a key consideration.  
Do you want the device to be placed at the beginning, middle or end of their journey?

How will the donor be feeling at each point?

Has there been an exchange of values? 
This often needs to be considered alongside footfall.
For example, where should you consider adding devices if you run a hospital charity? There's very high footfall in a department such as A&E, however the experience is one of high stress, with visitors looking to leave as soon as they're treated.
Alternatively, an in-patient ward is somewhere both patients and their families will be for longer. They'll have a deeper relationship with the department as well as the staff who work there and often want to give back to show their appreciation.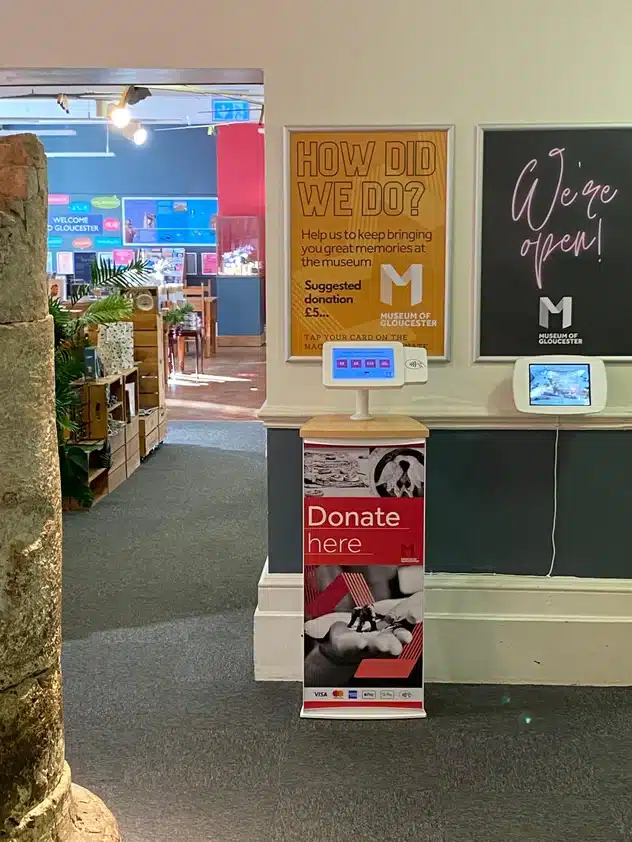 3. Accessibility - make your cause visible
When we talk about physical accessibility, we are referring to the area in which the device is sitting. Is it accessible to wheelchair users, for instance?
Taking the time to remove obstacles can make a world of difference to your visitors, and helps with visibility! 
Twice as many charity donors see contactless as a good idea than those who dislike it, so the more methods you provide, the more demographics you appeal to and the more likely visitors are to give. 
Tip: Any branding, messages or information should be as accessible as possible. Think about colour contrast, size of any printed fonts, and visual impairments.
4. Messaging - signposting your device
Face to Place giving is often unattended or semi-attended, which poses two challenges:
Make visitors aware of the device

Direct visitors to the device
Clear, directional messaging is important for maximising visibility and engagement, much like volunteers are when fundraising face-to-face.
Questions to ask yourself:
Is our messaging consistent throughout the venue?

 

Is it clear what we are promoting i.e. a donation device?

 

Is it obvious what the devices function is?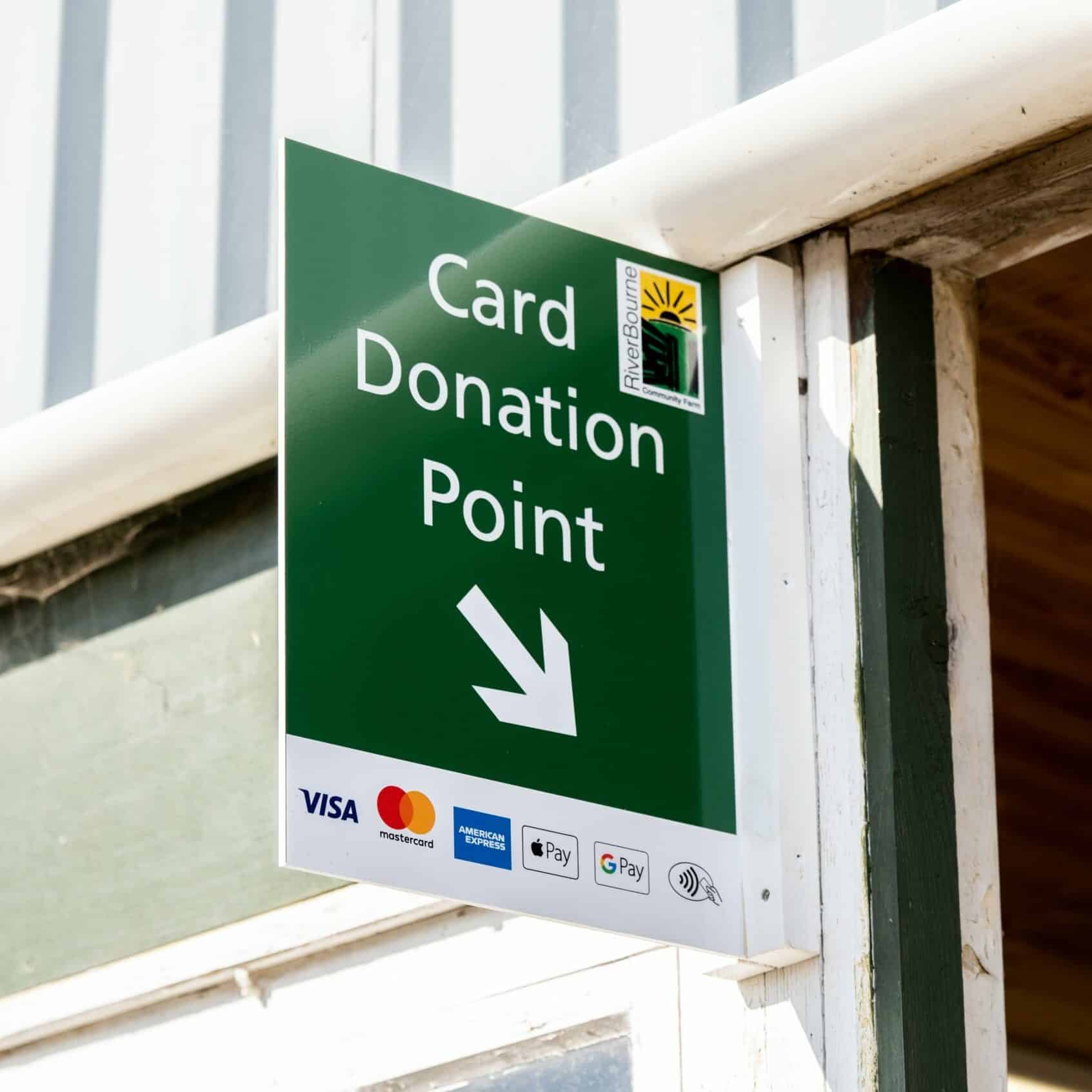 Tip: Giving the donation device it's own space, with floor and wall signposting can help with visibility!
5. Boosting engagement with fundraising teams
It's possible to leave the Donation Station unattended for periods of time, but embracing its presence as a team can really help boost income.
Introducing volunteers to it's benefits, such as Gift Aid declarations, so they can nudge supporters towards adding that extra 20% tax relief, assigning a responsible person who'll keep an eye on any technical requirements, and including it in team discussions leads to a better all round result. 
The Natural History Museum is a great example of this as they have a giving team dedicated to promoting their contactless devices, which results in high engagement, awareness and better donations revenue. 
We appreciate that volunteer workloads and budgets are in major demand, and fully attended Face to Face giving isn't always possible. In the absence of staff, always signpost the device!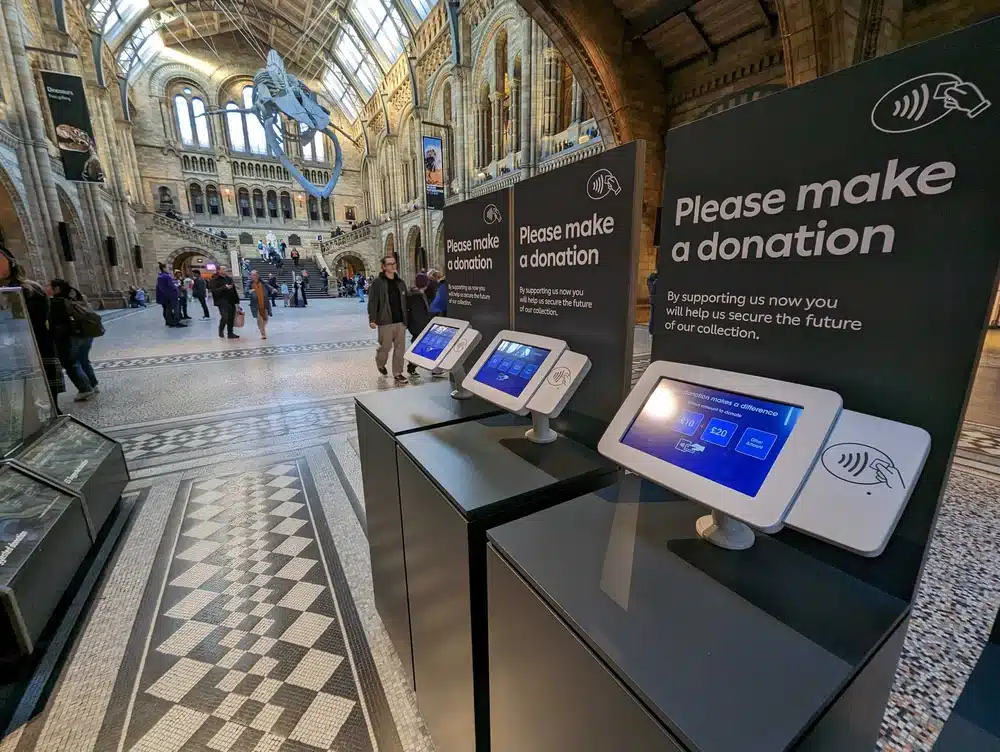 Face to Place, inclusive fundraising can be a brilliant way to maximise the visibility of your cause and boost your fundraising income. 
In-situ contactless giving, like with any charitable campaign, requires a strategy, as well as investment from your team – embedding it into your daily fundraising activities delivers the best return on investment. 
We help socially-minded organisations transition to digital systems, building stronger relationships through impactful products and services.
Our experience goes back two decades, with a foundation building and providing critical digital services and products for the financial services and retail industries.
With a long-proven ability to handle challenging projects and a team of trusted experts, we work hard to solve problems and deliver change that helps others.