With volunteers and charity workers beginning to face the impact of the cost-of-living crisis, we take a look at the recent trends observed in the ever-changing landscape of donor behaviour, and how it's possible to influence the way we can communicate with supporters.
What's happening in fundraising?
It's a mixed picture – where on one hand donor recruitment is up, but attrition is also increasing with regular giving on the decline.
A 10% increase in donor recruitment from 2021 to 2022
A 6% increase in charitable giving from 2021 to 2022
An increase in attrition rates from 22% to 30%
A decline in regular giving
A gradual shift to younger demographics
Higher 'contact-ability' rates, particularly with email marketing
Source: Wood for Trees
How is the next generation choosing to give?
Donors, particularly within younger, less affluent demographics, are seemingly taking a step back from regular giving.
This could be because they can no longer afford to give monthly due to the increased cost of living and less disposable income. Or, because they prefer a hands-on approach, it takes time to build relationships with charities, where they will look for a level of transparency, as well as indicators that they share the same values.
This, paired with a desire to give to causes currently in need (we saw high engagement with charities push for donations during initial Ukraine relief efforts earlier in 2022), increases the likelihood of their money having a noticeable impact, which is what drives many to give.
"The spirit of generosity and passion for impact among younger donors is awe-inspiring. But to harness it, non-profit organizations must welcome a new generation of highly engaged, impact-driven supporters looking for deep connections and measurable outcomes as key elements of their philanthropy."
What does this mean for charities?
Unfortunately, this desire to give to multiple causes, means higher levels of attrition and a lack of loyalty, not previously seen with older supporter demographics. Charities can't necessarily rely on legacies and regular giving as guaranteed income. Or, at least we think they'll need to work harder to secure them in the long term, as younger supporters mature. However, overall charitable income has grown by 6% which is higher than pre-pandemic, suggesting there is still a willingness to give.
Are you communicating with your donors in the right way?
We know that understanding your supporter demographics and behaviours can help build meaningful relationships, increase donor recruitment and help strengthen supporter loyalty. So how do donation devices play a part in this?
Optimise your marketing strategy – including your donation methods.
We have seen a growing demand for good donor data for non-profits in the past couple of years, especially with the increased use of digital solutions.
It's great to know that email continues to be a strong method of communication with donors, especially when it comes to nurturing supporters and participation, however what happens when it comes to physical interactions?
This is where the Donation Station's 'Conversation Starter' options is made for your charity's supporter outreach. Available as standard with every device, it encourages donors to input information, and respond to questions about the cause or charity they're interacting with.
Great fundraising platforms and devices will make it easy to export and read the data within them.
Reports can be downloaded from each Donation Station through a secure customer portal, to help diagnose supporter behaviour trends, highlighting areas for improvement.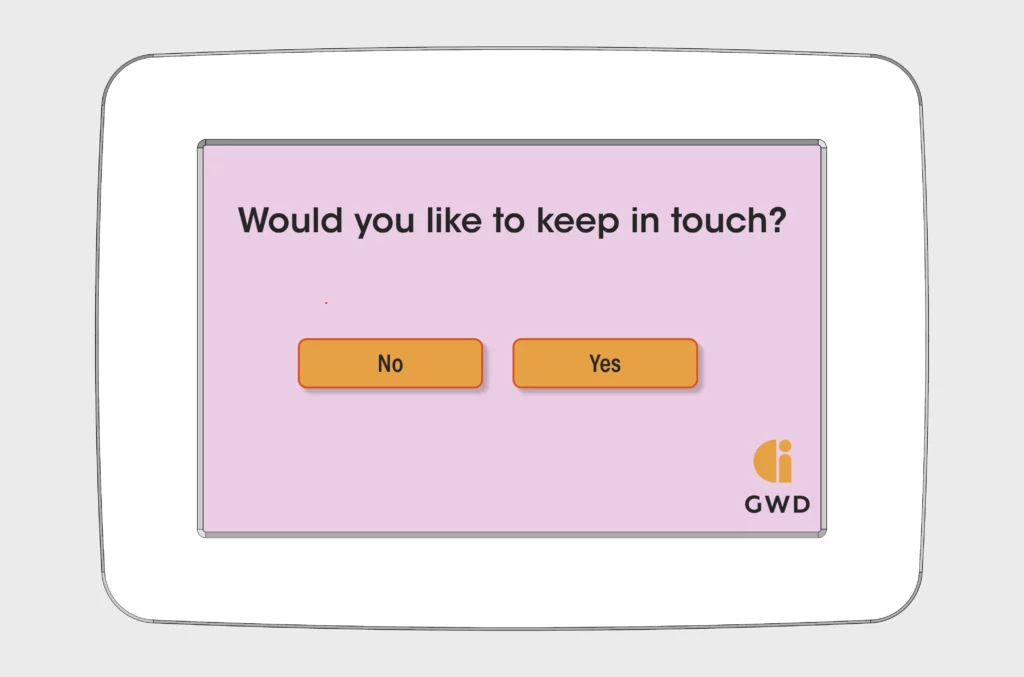 How do digital fundraising devices help build generosity?
If the future of fundraising is about fostering meaningful relationships based on charity impact, how do devices like the Donation Station come into this?
We think a good device should sit in sync with your messaging and imagery, strengthening the donor relationship and converting one-off donations into regular ones.
We consider this another way to personalise the supporter journey, handing power to donors. Building autonomy, asking for preferences and setting yourself up to thank donors for their generosity will serve well as your donor base grows through digital giving.
We help socially-minded organisations transition to digital systems, building stronger relationships through impactful products and services.
Our experience goes back two decades, with a foundation building and providing critical digital services and products for the financial services and retail industries.
With a long-proven ability to handle challenging projects and a team of trusted experts, we work hard to solve problems and deliver change that helps others.