We've established how the recession affects charities and the impact of this on fundraising income recently on our blog. Here are our thoughts on tackling the challenge using digital fundraising tools.
We are moving away from cash. It's undeniable. Yes, there's still a need to offer supporters the chance to give with currency, but if the majority of the public feel giving by contactless makes it easier to donate to charity, how can charities capture their support? 
In 2020, only 17% of all payments were made in cash according to UK Finance reporting and in that same year, over half of all payments were made by card.
Most instore payments are now contactless

Back in 2017, about three-quarters of charities thought they would be using contactless payment systems when surveyed by the Institute of Fundraising. While businesses can often access digital upskilling relatively quickly driven by customer demands, charities are sometimes a few steps behind.
Roll forward to today, the pandemic has accelerated an adoption of digital and cashless giving across society, and charities increasingly recognise the importance of Digital Skills.
The Charity Digital Skills Report 2022 is an indication of progress, as well as the challenge of making a 'digital transition'
More than half (56%) of charities now have a strategy for digital
40% would like their leaders to develop and embed a good digital strategy
More than half of charities (51%) want to build the confidence and skills of their staff and volunteers
Already decided to add a new digital fundraising service to your toolkit? Great, skip forward to our planning and solutions insights.
Not sure what's available, or what would work for your charity?
This list should help:
Digital Fundraising platforms – there are loads

 out there! Including some that are free, with no fees

Mobile payments – there's a growing number of 'tap to donate' or 'tap on glass' options available including one from CAF that let's you also process postal donations
QR codes – donors can 'scan to give' with these. Brilliant for campaign-based fundraising according to Charity Digital
Peer to Peer fundraising – this is fundraising by word-of-mouth (or Twitter). A supporter uses their own social networks to brings others towards your cause, and each activity is like a mini-campaign
Payroll giving – recognised method for employees to donate to charity tax-free, via PAYE systems
Direct Debits and Standing Orders – brilliant for regular giving, CAF explains it all here
Contactless Donation Devices – there are plenty of cashless donation machines now for all budgets, from basic card readers to adaptable relationship building tools, like the Donation Station
Closing the Funding Gap with Digital
Before you can adapt, take a look at your skill sets. Are your IT systems in place to allow for digital and contactless payments?
If not, do you need to put some training in place or draw on outside experience? Are there volunteers already involved that know how technology helps businesses prosper? Can you draw on these skills?
If not, ask to speak with the support team of any service you're considering working with.
We advise planning for now and next year. Right now, it's worth looking at smaller, more achievable immediate goals, together with a longer term plan for sustainability.
Talk with your finance team to grasp the funding income vs. your ongoing costs. They will know how the past couple years have affected the bank balance.
Once you understand that funding gap, and what's happening to your supporters, start reaching for those digital tools.
Offer flexibility in your fundraising. If a supporter needs to pause their giving, keep in touch with impact messaging and success stories.
Your fundraising tools should reflect your organisation's situation and the makeup of your supporters.
If a one-off donation is less likely due to financial pressures, your supporter might wish to simply add their name to a list of future pledges via a Conversation Starter question, or a campaign page on your online giving site.
There's always an option to reduce your donation amount request. It's possible to adjust the median amount asked for on a Donation Station. This way supporters can still give, but the pressure to give is reduced.
Rekindle the relationship when the timing's right.
If anyone has ever signed up to give blood, you'll know how persistent (but polite) the service is with reminders and messages to encourage a future donation.
Text messages, emails and even snail-mail works as a nudge.
If your supporter demographic indicates they'll be likely to reduce their donation frequency or amounts, acknowledge the difficulty and thank donors for their generosity.
A lot of human behaviour around giving is driven by our need to 'do good' and 'feel good' about doing so. Timing a campaign aligned with the season, predicted demand and your supporter behaviours may help.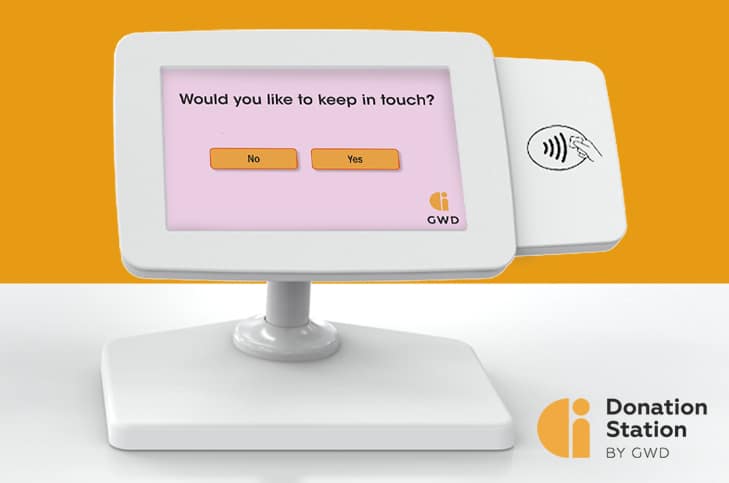 Long term fundraising shifts
As we move to an increasingly cashless society, investing in digital tools and devices, skills and support should be a part of your charity's digital transformation. Many report feeling under-prepared for this, so ensuring this is built into your plan will be vital to future service delivery.
We help socially-minded organisations transition to digital systems, building stronger relationships through impactful products and services.
Our experience goes back two decades, with a foundation building and providing critical digital services and products for the financial services and retail industries.
With a long-proven ability to handle challenging projects and a team of trusted experts, we work hard to solve problems and deliver change that helps others.