What makes a good cashless fundraising device?
If you're adding a contactless donation box to your fundraising toolkit, it's important to consider how to articulate, on screen, what it is you're campaigning for.
A good cashless donation device should make your cause and associated campaigns visible for as many people to see.
Your charitable mission may well take in different activities and Digital fundraising methods, but for a tool like the Donation Station to work well, it should communicate the impact the act of giving will have on the situation you're supporting.
What's different about the Donation Station?
We've added the ability to vary donation amounts, according to specific causes (or campaigns).
This means as well as choosing upto four different fundraising pots supporters can give to, you can now ask for donations of different amounts, according to the cause they've chosen.
It's about user personalisation. We know donors want to have some autonomy over where they choose to give money to, and we know that charities and fundraisers want to tailor the donation journey's supporters can go on.
People giving to each cause may vary in demographics, and the income targets for each activity will differ too 
How does it help boost fundraising income?
Let's use a fictional cultural charity as an example:
This charity has a few different activities it wants to fundraise for: educational bursaries, events and individual giving that can be nurtured for regular donations.
By specifying different donation amounts to each cause on screen, the Donation Station can act as part of the fundraising team.
Higher cost services like bursaries can be reflected by larger suggested donation amounts, while individual giving can reflect the average single donation made, placing it alongside other amounts to encourage a boost to these income streams.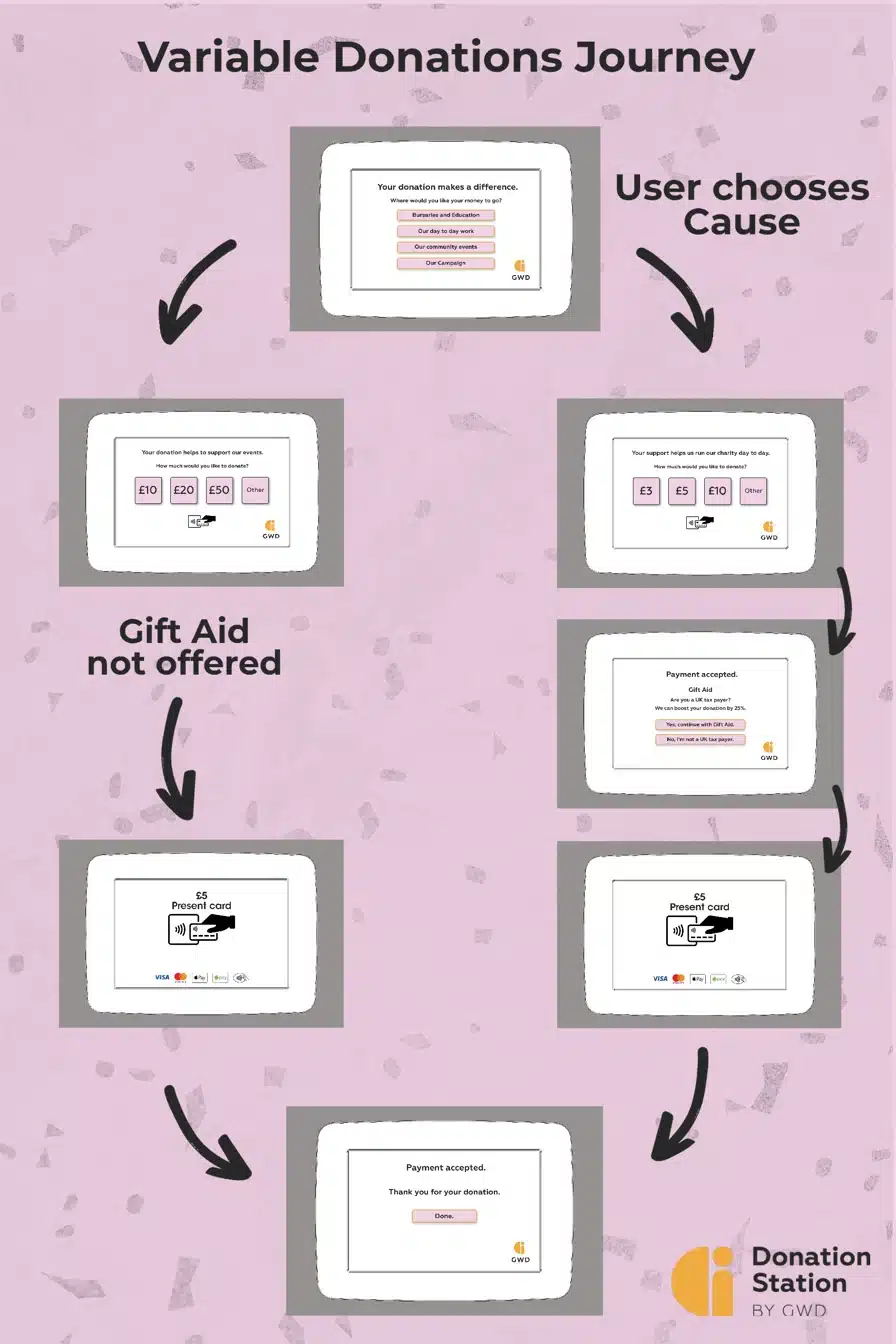 Gift Aid rules vary around the types of donations and charitable activities. That's why we've also introduced the ability to switch off Gift Aid, according to each 'Cause'.
This way you'll be able to use one device to capture many different fundraising income streams, and stay on the right side of HMRC regulations.
We help socially-minded organisations transition to digital systems, building stronger relationships through impactful products and services.
Our experience goes back two decades, with a foundation building and providing critical digital services and products for the financial services and retail industries.
With a long-proven ability to handle challenging projects and a team of trusted experts, we work hard to solve problems and deliver change that helps others.