What is this feature and how does it work?
The Donation Station is purpose-built for the fundraising landscape and seeks to optimise donations through both it's physical branding and digital design.
When it comes to the digital user journey, one of our features – the Conversation Starter – works as an opportunity to follow up with donors after they've made their donation.
Available as standard, it allows you to add one or two questions, after payment has been taken, at the end of the donor journey
Example Conversation Starter Questions
We often say the simple direct question can be most effective:
'Would you like to keep in touch?'
'Can we tell you more about our work?'
'Do you want to learn how your donation will be spent?'
'Would you like to be notified of any future events?'
'Can we add you to our mailing list?'
Donors will be choosing to opt-in for further communication from your organisation by clicking YES to the question, and then provide their email address on a following screen.
Then it's up to you! We see loads of benefit in being able to follow up with visitors, provide supporters with campaign updates, donation impact messages and start a new conversation around regular giving.
We've built the Donation Station to help develop meaningful relationships with your donors. Ask us for a Demo to see it in action!
Getting value from donor data with the Donation Station
There's a growing demand for data, because charities needing to increase their efforts in securing donors, due to a number of factors:
New demographics i.e. younger generations

 

A decline in regular giving 

 

Higher attrition rates

 

A busy information space where campaigns can be easily lost

 

A challenging financial landscape 

 
"It's great to know that email continues to be a strong method of communication with donors, especially when it comes to nurturing supporters and participation, however what happens when it comes to physical interactions?"
Gaining donor information through features such as the 'Conversation Starter' helps you to build a database of contacts which can then be used for future communications.
Why is it important to build meaningful supporter relationships?
The majority of charities agree that technology helps to improve supporter relationships, however only 35% said they get the most out of their technology according to research from Blackbaud.
Building a marketing strategy based around donor data helps your organisation target the right groups of people with relevant information.
"For example, a first time, one-off donor may be interested in knowing how their contribution has impacted the cause or whether they have helped the charity to reach their fundraising goal.  Building a relationship around this touchpoint could deliver legacy value."
– Blackbaud
Updates like these can help to provide insights into the charity's work as well as showing a level of transparency. These qualities are vital in today's environment, with younger generations taking the time to choose an organisation/cause that share their values and one they identify with.

Using emails to personalise your messaging and highlight your work can really resonate with younger demographics who value a hands-on approach to giving. 
Most charities and organisations have an online presence, meaning potential donors are often overwhelmed with causes needing their support.
This makes for an overly saturated market and therefore means your campaigns can get easily lost within the continual scroll of our social media channels or inboxes.
Reaching out to previous visitors is one way to refresh their memory and solidify your cause in their mind. This in-turn increases the likelihood of regular givers, as well as future legacies. 
How is data stored by the Donation Station?
Your organisation will gain access to the data captured via our secure customer portal, via downloadable reports.
This is where all Donation Station data is stored with different levels of access available – you can limit access to specific user accounts, if you wish, to comply with your GDPR policies.

Because the Conversation Starter questions are clearly opt-in, when someone answers NO, the device will not ask for an Email address, or add any marketing contact data to your report for that particular transaction.
The device processes payments securely – more about this here.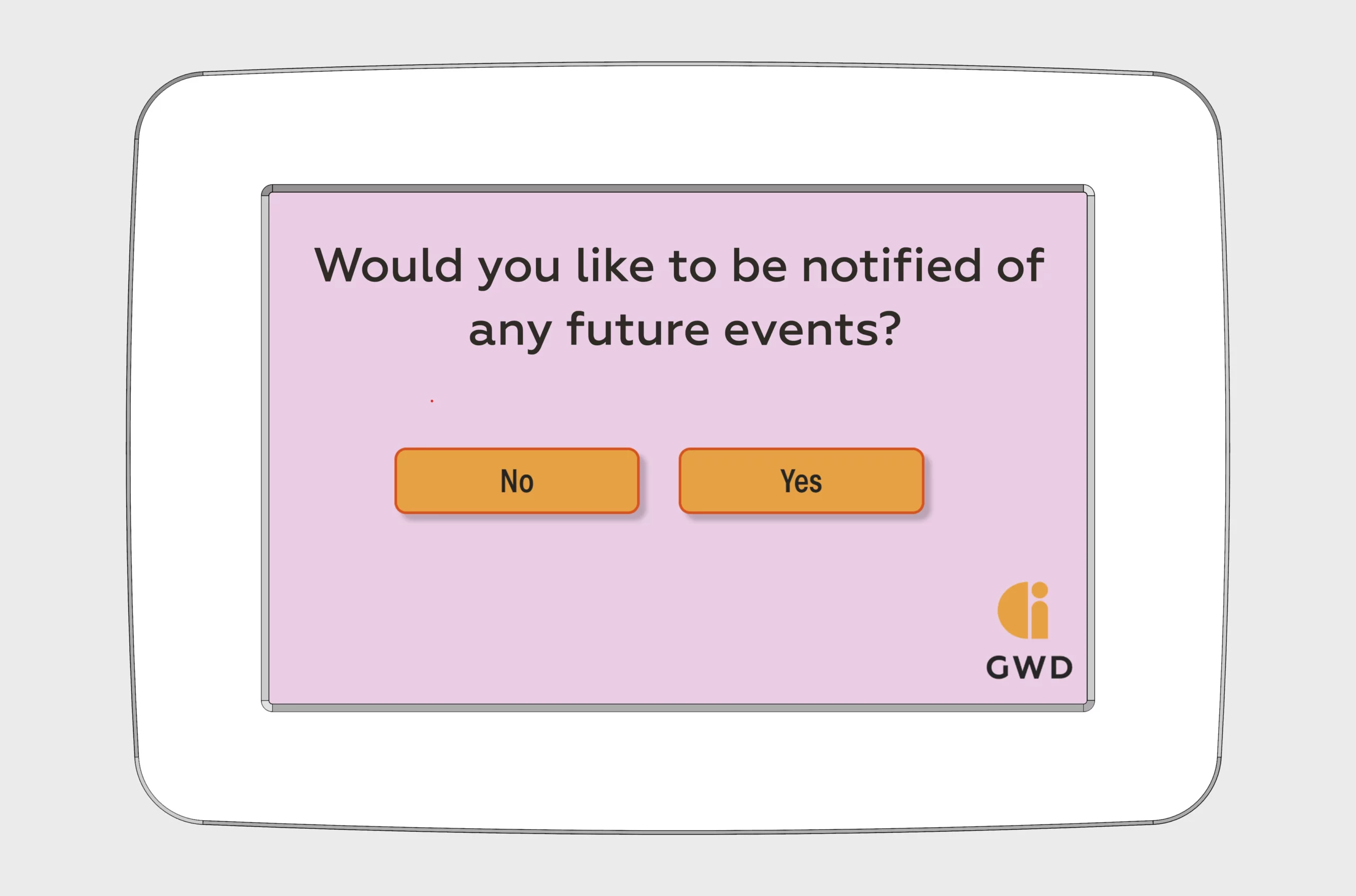 We're already a Donation Station user, can we get this switched on?
Yes absolutely! We'd be happy to sort this out – contact support@gwd.team to raise a request ticket.
We help socially-minded organisations transition to digital systems, building stronger relationships through impactful products and services.
Our experience goes back two decades, with a foundation building and providing critical digital services and products for the financial services and retail industries.
With a long-proven ability to handle challenging projects and a team of trusted experts, we work hard to solve problems and deliver change that helps others.