Preparing for donations during Ramadan using digital fundraising can transform income at Mosques, and charitable giving to Muslim charities.
Mosques and Muslim charities often focus on local, national and international humanitarian work as a way to express solidarity with the global Muslim community, or Ummah.
It's estimated there are over one thousand Muslim charities in the UK alone whose main cause is centred on international humanitarian work, involving over 10 thousand volunteers.
So, when it comes to adding digital fundraising to Mosques and Islamic charities, what should you think about?
Ramadan and other holy days are often the busiest times at Mosque: how do you currently ask for donations, and where can a donation machine fit into this journey?
We find in many Mosques, there's an entryway or corridor leading to a main prayer space, that's often a great position for a Donation Station. Placing a device on a wall avoids using up floor space (especially good for smaller Mosques). Also consider how you're asking for a Zakat donation at Ramadan? Are you making it a swift and easy process for everyone?
Adding a quick on-screen donation process and option to enter your own Zakat figure can mean less admin time for staff, with monies identified separately for distribution to good causes. 
Making your Zakat al-Fitr payments is an important spiritual and symbolic gift during Ramadan, as a pillar of the Islamic faith, and this year, Muslims will likely give over £150mn during Ramadan.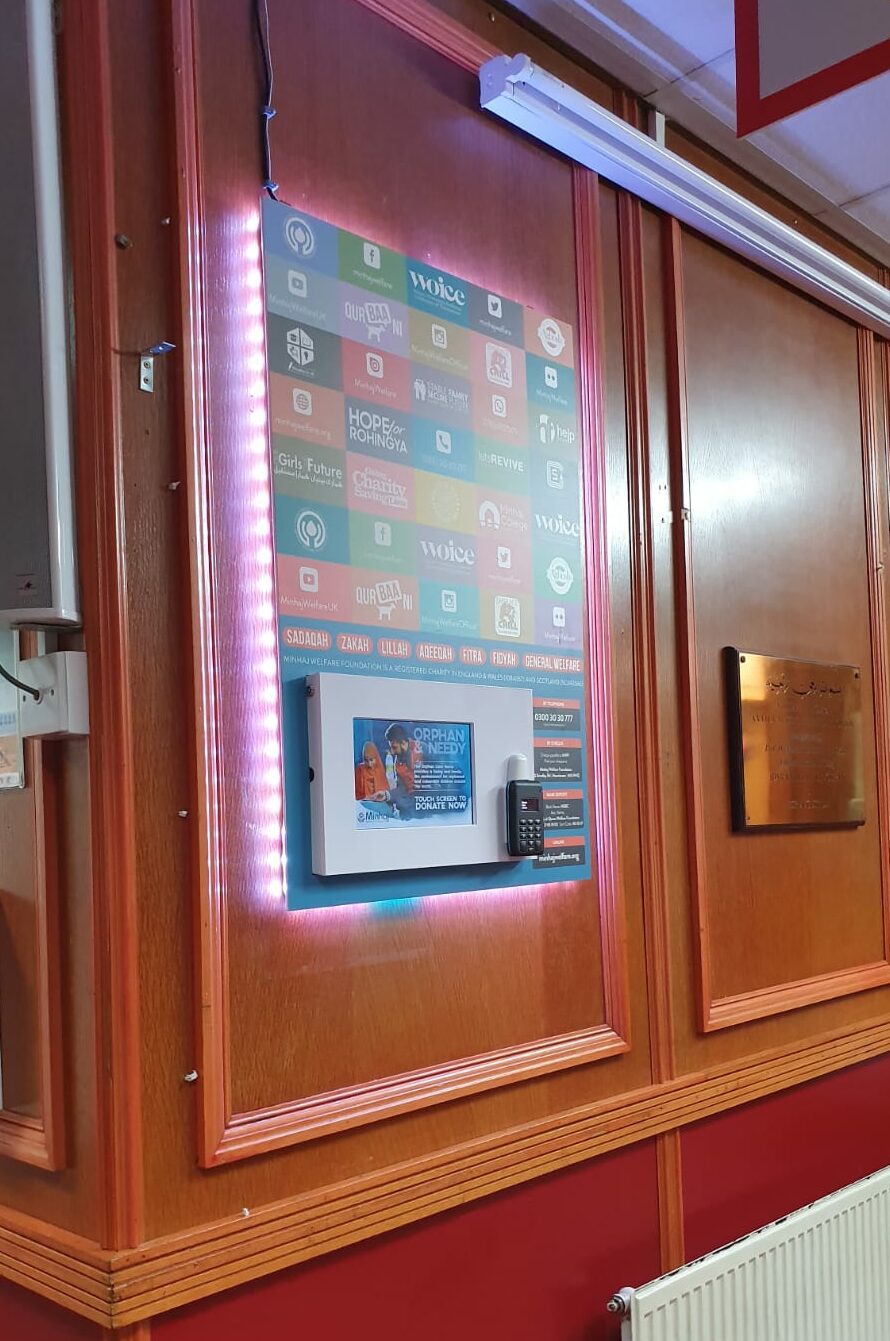 Managing different giving streams: Sadaqah, Zakat, Fidyah or Kaffarah
The latest research from the Ayaan institute shows that Zakat can contribute around 40% of all giving in some charities
Because each donation type has a different meaning and significance, it can mean a different donation pot is needed – it can be complicated to ensure monies are kept separate.
How can Mosques manage these different donation streams?
You can designate different accounts for Zakat or Sadaqah, or create a simple spreadsheet to identify each value and it's identifier. Or, remove this administration time completely by asking your supporters and worshippers to mark which type of donation they're making on screen. 
The Donation Station is designed with multiple causes and variable donation amounts so you can pre-set the Zakat payments, Sadaqah options or the Fidyah and Kaffarah donations you've agreed that will be payable during Ramadan for missed fasts. 
A Donation process built on trust
Another benefit of digitising the donation process at Mosque or for Islamic charities is centred on trust.
Your trustees and supporters will know both your financial risk is better managed, and any donor will know they've made their Zakat payment and completed their Islamic duty. With contactless and cashless payments, the data is stored safely, the Mosque doesn't need to handle as much cash, and your charitable actions can start immediately.
When you add messaging and branding around the donation area, on the device itself, donors can feel confident their charitable payment goes where it's supposed to.
What to do with the funds raised after Ramadan?
Staying smart and giving safely at a time of generosity, is vital to robust charitable activities.
It's also important that any charity can continue taking donations throughout the year to boost programmes and activites. 
Should we be worried about this? While the Muslim community is very generous, the rising value of donations will give rise to more risk of fraud and unscrupulous agents in the sector.
Muslim charities forum has some great advice to make sure you direct your funds to a safe, genuine charity, and the UK Government upped it's efforts to help support the Islamic charity sector, by issuing the following advice this Ramadan:
Is the charity genuine?
Check the charity's details on the register
What are they planning?
Find out how they'll spend any funds you give.
Are they working in line with the Code of Fundraising Practice?
Look for the Fundraising Badge that says 'registered with Fundraising Regulator' to indicate their commitment
What can you do when it comes to using contactless payment devices?
Our number one advice is to look for devices with PCI compliance, and check any device or donation platform uses safe payment methods, and explains how they manage data safety
Yearly Muslim giving was estimated to exceed £1bn in 2020 – and the Muslim charity sector makes a significant impact across the UK economy and society, according to the same research from Ayaan Institute on the Muslim Humanitarian Charity Sector.
There's potential to grow this contribution too. Integrating Gift Aid submissions more deeply into this charity sector, alongside clearer reporting of Zakat, could deliver even larger results across Muslim charity programmes and activities, as charities improve the rate at which donations are Gift Aided.
We help socially-minded organisations transition to digital systems, building stronger relationships through impactful products and services.
Our experience goes back two decades, with a foundation building and providing critical digital services and products for the financial services and retail industries.
With a long-proven ability to handle challenging projects and a team of trusted experts, we work hard to solve problems and deliver change that helps others.