Think about how hard sometimes it is to see signs, or find your way through a place – nothing catches your eye more than a moving image.
We've created the Donation Station to capture attention in busy fundraising environments. Together with colourful branding, the Attract Loop is a series of looped images that is always on screen, when the device isn't in use.
How does it help with fundraising?
The Attract Loop is a great feature for unattended or semi-attended donation devices as it draws in visitors without reliance on staff or volunteers. It's a starting point for a new relationship with a donor, that coupled with other engagement features, leads to longer-term support.
It could mean the difference between kickstarting the user journey or losing a potential donor.
What motivates people to give?
We know that understanding the value of their gift or donation can make a difference to someone giving, and demonstrating your purpose, and the impact of the fundraising makes for a more convincing call to action.
We believe the Attract Loop helps drive more donations through our device than other fundraising methods.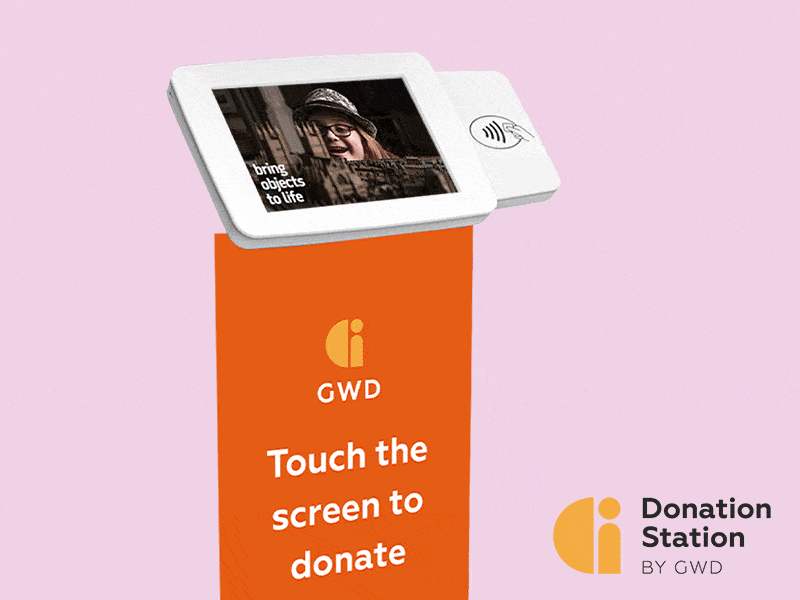 The Donation Station's unique features are Read more about the Donation Stations features:
There are challenges coming down the line for charitable organisations, and anyone fundraising for good causes.
Changing donor behaviours and declining donation amounts are to be expected, meaning charities will have to work harder to build meaningful relationships with supporters in order to secure individual and regular donations.
How to design a successful Attract Loop?
With the Attract Loop usually being made up of three images, it is a good idea to vary your messaging in order to convey as much of your work as possible.
Here are some suggestions to help identify areas of interest for potential donors that can start the donation process:
What is your purpose, can your public message be used here?
Can you showcase it in through imagery?
What impacts do donations have?
What statistics explain best what it costs to provide part of your service?
And, what does this kind of support mean to service users?
Do you have any quotes or short stories from someone meaningful to the charity?
Great designs to tell your story
These designs are brilliant examples that start the donation process for a Donation Station user.
The chance to see the archaeological artefacts that draw in visitors, are front and centre for the Museum of Gloucester.
Here, this animal welfare charity make sure you can see the impact of their healthcare immediately with imagery.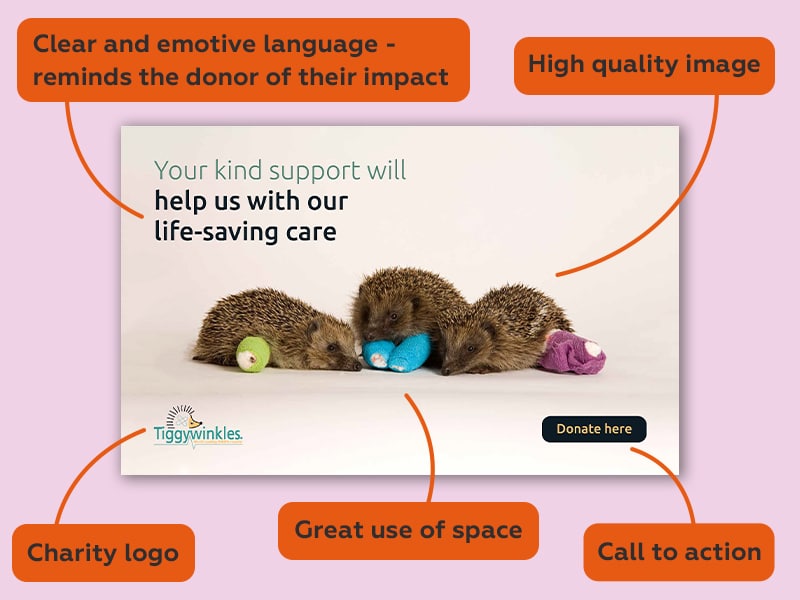 What do we need to supply?
Send us existing designs, or with the help of our in-house designers, we can create up to three images that successfully mirror your brand identity and showcase your important work.
We help socially-minded organisations transition to digital systems, building stronger relationships through impactful products and services.
Our experience goes back two decades, with a foundation building and providing critical digital services and products for the financial services and retail industries.
With a long-proven ability to handle challenging projects and a team of trusted experts, we work hard to solve problems and deliver change that helps others.