Interested in boosting your donations income at Mosque?
We've got 5 ideas from a digital fundraising perspective that you'll want to think about:
1. Add a contactless Donation device
Consider how little cash many of us carry nowadays? Your Mosque or Madrassah can easily take contactless payments and donations with a donation device. We make the Donation Station, and have seen it deliver brilliantly for Mosques and Islamic Centres.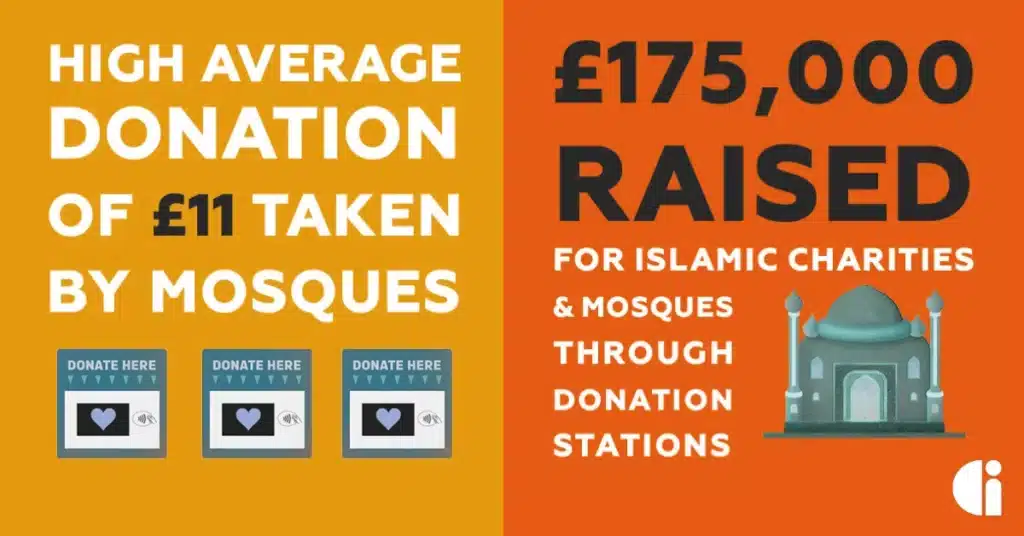 Obvious, but sometimes this is a missed opportunity in Islamic settings. We know it can be difficult to grab attention from people coming in and out of the building at busy prayer times. But think about how you communicate the benefits this could bring? Asking your community to make the declaration gives you an extra 25% on top of any donation they make. Added up, and it's a whole extra income stream – for free, from the Government!
3. Consider your Zakat options
We know giving Zakat is a key part of the Islamic faith, as much as giving through Sadaqah. It can get a bit confusing when gathering donations for different reasons. Plus, it's important that different pots of money are kept separate for accountability so donations go to where they're most needed.
On the Donation Station, we call it Variable Causes and Donation Amounts – but you can just say, you want a Zakat option.
4. Tell people about your work
Charities and faith groups sometimes forget to add the extra information to the end of their request for donations.
The message that explains the impact should be on screens, web pages and in your email newsletters.
The Cost of Living crisis will affect donations. Make the most of any giving opportunities and tell people how much you need, and for what purpose.
Want to provide an after school club for children free of charge to families in need? Tell people what their £5 will mean and how many families you aim to help.
Digital Skills training is a key part of improving outcomes with digital fundraising for charities.
Ask for volunteers who will help maintain digital fundraising platforms and devices, train up anyone who needs to access reports and Gift Aid declarations to make your HMRC applications – to build confidence around these tools.
Think about your finance team – they'll probably have questions and want to see how data is handled by a device like the Donation Station.
We help socially-minded organisations transition to digital systems, building stronger relationships through impactful products and services.
Our experience goes back two decades, with a foundation building and providing critical digital services and products for the financial services and retail industries.
With a long-proven ability to handle challenging projects and a team of trusted experts, we work hard to solve problems and deliver change that helps others.