What's experiential design and why is it relevant for charities?
This fancy term boils down to a simple idea: creating a better donation experience. This is about how visuals, audio, video, typography, and colour can be put together to tell stories. In the case of charities, we mean digital stories that share the joy, and meaning in supporting a cause that changes a situation for the better.
These kinds of immersive experiences, can deliver change for charities. As technology improves and becomes more readily available, it can help organisations stand out as relevant to donors in a tough climate where people have less to give.
Digital giving provides an opportunity to optimise donor journeys where every interaction matters.
Create a positive, memorable experience
Research shows, when people have a good experience with your organisation they will continue to support you and share their experience with others. You build loyalty.
Now consider creating, not only a good experience, but a memorable one.
Ask yourself, what experiences have resonated with you?
Then think about why – was it innovative? Emotive? Interactive? How did it make you feel?
These are the things worth considering when setting yourself apart throughout the giving experience.
The Donation Station is designed to support donor relationships, as well as collect contactless payments.
Every device uses features aimed at establishing a strong narrative, like the Attract Loop shown here, plus opportunities keep in touch with donors.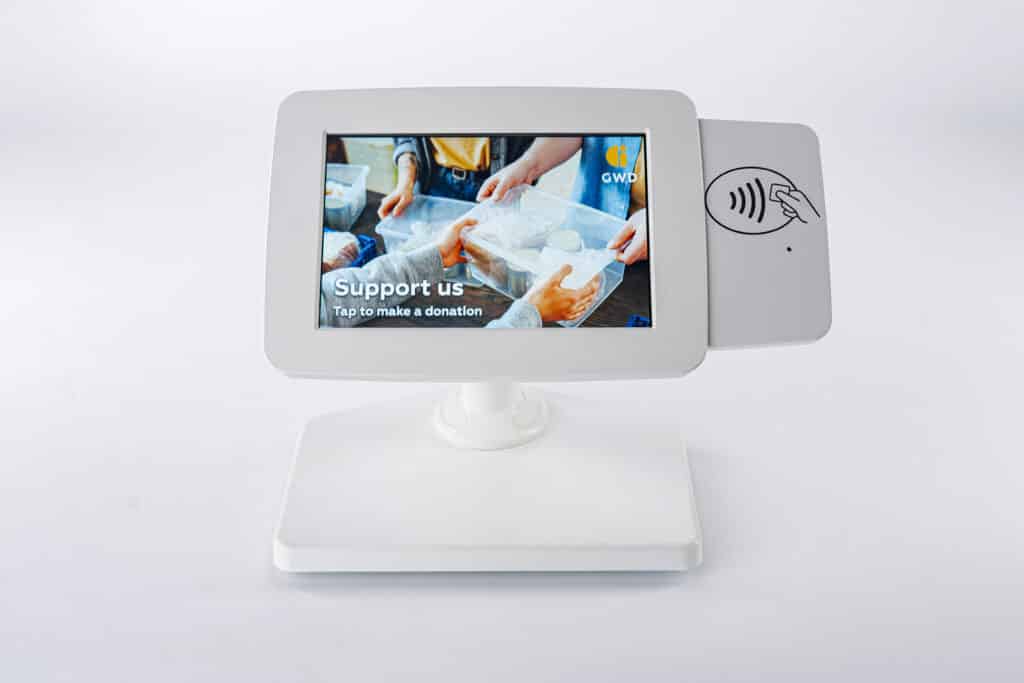 Exceeding Donor Expectations
Experiential Giving makes a powerful first impression and goes beyond the immediate donor's experience. 
This 'halo effect' makes use of visuals and animations to create a positive, public giving experience for both the device user and surrounding bystanders. 
Think about making it visually satisfying, or provide supporters with a souvenir to take away or share with others. For example, providing a social post via shareable link or QR code, gives donors the opportunity to share their good deed with others. 
What does Experiential Giving look like?
How to stand out in a difficult climate
You need to effectively and consistently tell your charity's story in order to attract value-aligned donors. Rising costs, paired with a decline in regular giving and an incredibly competitive landscape, means charities are having to work harder to survive.
Talk to us about designing an immersive giving experience with Donation Station's that
Create a unique and memorable experience
Emotionally connect with donors
Encourage further support from passers-by
Charities using Experiential Giving​
Donors want fundraising experiences that are active, and we've been lucky to help charities make their donation experiences more immersive, using our Donation Station, and sometimes with bespoke technology.  
Digital gives charitable organisations the opportunity to optimise their donor journey. In a competitive landscape like today's, every interaction matters. Making a memorable and emotive experience for your supporters increases recognition and donations. 
We help socially-minded organisations transition to digital systems, building stronger relationships through impactful products and services.
Our experience goes back two decades, with a foundation building and providing critical digital services and products for the financial services and retail industries.
With a long-proven ability to handle challenging projects and a team of trusted experts, we work hard to solve problems and deliver change that helps others.